Dann Berg
Dir. of Community
and finops aficionado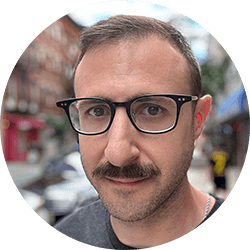 Hello, I'm Dann. I work at the intersection of engineering, finance, and cloud cost optimization. In simpler terms, I help make big, scary cloud bills not so big or scary.
Want to do a deep dive? There's more on my About page, or you can check me out on LinkedIn, Github, AngelList and Bluesky/Twitter. If you want something more personal, you can find me at the monthly NYC FinOps Meetup, which I run. It's also pretty easy to find more about me with a quick Google search. Spelling Dann with two Ns is great for SEO.
In a past life (before the deep dive into FinOps), I was a tech journalist, and my writing has appeared on MSNBC, Fox News, The Verge, Mashable, Laptop Magazine, and Tom's Guide. I also co-authored two full-length plays with my wife, including "The Floorshow", which is about a group of tap-dancing showgirls in the 1950s.
I live in Brooklyn, New York with my wife and our cat.
Selected Output
A lot of my writing can be found on the articles page. Much much older blog posts can be found on my old blog IAmDann.

I wrote a play with my wife called The Floorshow about a group of tap-dancing showgirls in the 1950s. It had a week-long run in 2019, which went really well. You should check out the sizzle reel.

For fun, I decided to register the domain dann.fun and have a little fun with it.

The code for this website and theme is publically available on Github. Feel free to borrow/steal in any way you wish.

Speaking of code, here's a small application I wrote called Daily PinBoard, which will send you a daily email showing you all the PinBoard bookmarks that you made on that day's date in previous years.

Though now defunct, I used to actively update my website Novice No Longer. I also had a podcast of the same name that people seemed to like.

Here's some of my work from when I was Reviews Editor at The Verge.

You can check out a video of my play "Diary: A One Act Play" being performed in Manhattan Repertory Theatre's 2015 Spring One Act Competition.

There was a time that I documented sticker art around New York City and published the website Stickers of NYC. I also run the neighborhood blog OhNoDoBro, although I don't really update it as often as I'd like.

Even though they're no longer available, I have fond memories of my three apps: Reader Tracker (iOS), Watcher Tracker (iOS), and WorkBurst (macOS).